05 Jan 2013
SABMiller - We'll Drink To That
Many South African companies have attempted to expand overseas. The failure rate is high and only few have succeeded. One company that stands out as having made a real success of its offshore ventures is SABMiller. CAROLYN LEVIN takes a closer look at this global brewing giant.
The company that is now SABMiller was founded in 1895 as The South African Breweries Limited ("SAB") to serve a growing market of miners and prospectors in and around Johannesburg. The company reports that the drink of choice in South Africa's dusty prospecting fields was raw potato spirit mixed with tobacco juice and pepper – small wonder that beer was well received. In the same year, the Castle Lager brand was launched from a newly commissioned lager brewery with a maximum capacity of 50 000 barrels per annum. 
The company listed on the Johannesburg Stock Exchange in 1897 as the bourse's first industrial share. In the late 80's SAB identified that the beer market was in need of consolidation and started on its drive to acquire brewing assets. This acquisition drive continued throughout Africa and then spread to Eastern Europe and Latin America amongst others. SABMiller's post-acquisition strategy is focused on driving down costs in the acquired company, improving product distribution and building each brand into a leadership position in its market. In 2002 SAB acquired the USA's second largest brewer, Miller Brewing Company. The merged entity, SABMiller plc, is the second largest brewer by volume in the world, with over 200 beer brands and operations in over 75 countries around the globe. 
At Foord we initially focus on a few key metrics when we analyse a company. SABMiller excels on all of these.
Operational and managerial excellence: the SAB management team has remained stable over the years and generally talent is grown and nurtured from within the company. This results in a solid management team with many years of experience in the industry and a strong track record.
Strong balance sheet and cash flow generation: like many long-term value oriented investors, we prefer to invest in solid companies with a strong and growing dividend stream. Owing to its strong cash generation, SAB has been able to pay a reliable dividend that has increased consistently over the years (see Graph 1).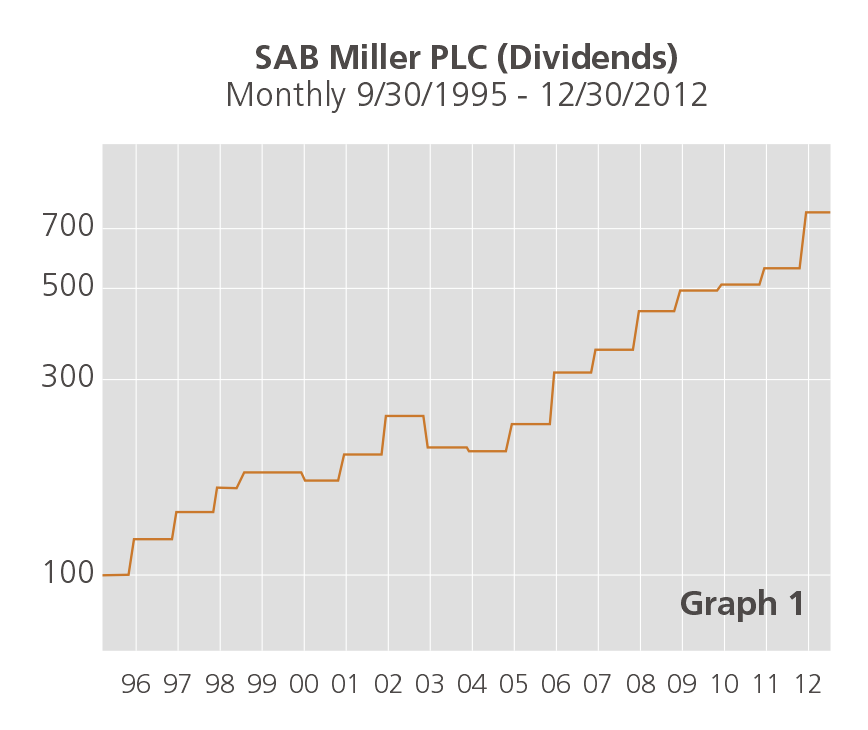 Good long-term growth prospects: SAB's portfolio is mainly focused on emerging market assets, which is where the majority of future global growth lies in the beer market. The earnings profile is therefore attractive.
Dominant market position: part of SAB's success is its adaptability and the realisation that products must be tailored to local markets. Different geographies have different taste preferences and SAB caters to this by offering distinct local brews in each of its geographies, whilst also having a portfolio of international brands such as Millers, Grolsch and Pilsner.
These factors explain why we like SABMiller as an investment proposition. However, the counter also provides some useful benefits from a portfolio construction perspective. Portfolio construction deals with the inclusion of securities into a portfolio to diversify investment risk and enhance long-term return.       
There are not many non-commodity rand hedges listed on the JSE. SAB's diverse mix of operations and revenue streams from around the globe is therefore particularly attractive. Approximately 80% of SAB's profits are derived from outside South Africa, which provides a hedge in the portfolio against a weaker local currency (see Graph 2).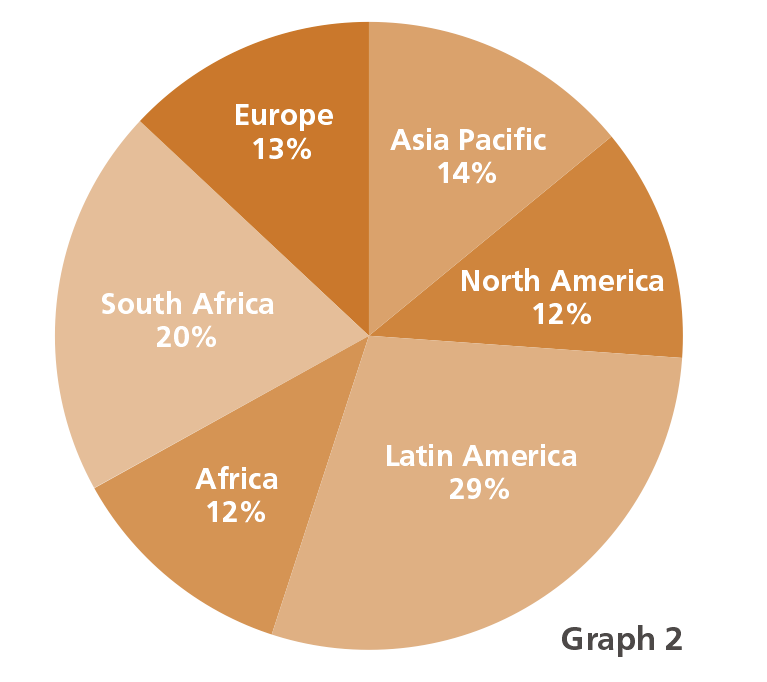 In our view, the attractiveness of SABMiller's fundamental investment qualities and its diversification benefits mean that we rate the company as a high quality company.
It's attraction as a quality company has been reflected in its share price performance. The upward trending Graph 3 highlights SAB's steady outperformance against other stocks listed on the JSE and marks it as a winning stock over the period shown.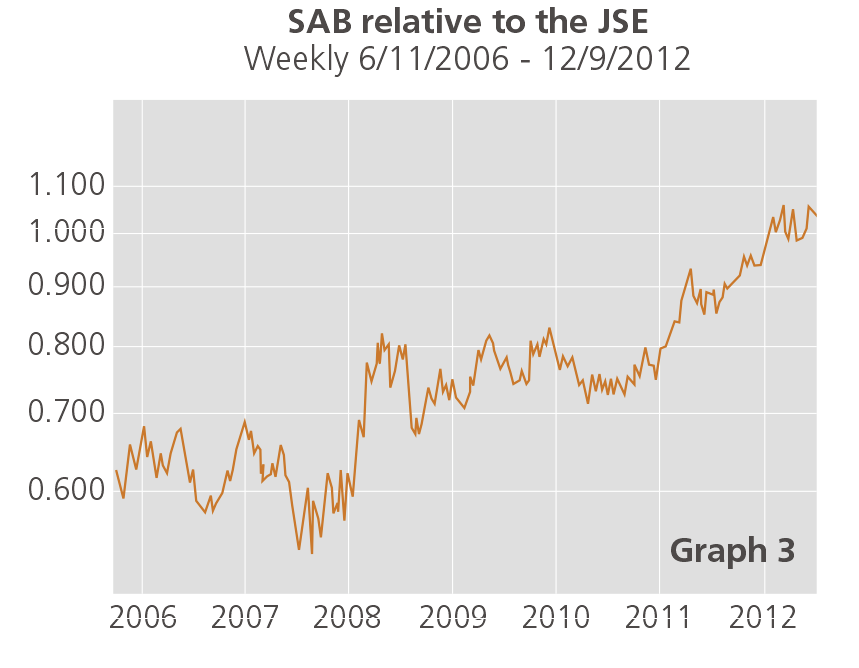 Insights
25 May 2022
How does Foord manage risk in the Foord Flexible Fund?
Dave Foord discusses how diversification is used to manage risk in the Foord Flexible Fund.
Watch now
25 May 2022
What hedging strategies are employed in the Foord Flexible Fund especially on currency risk?
Dave Foord discusses what hedging strategies are employed in the Foord Flexible Fund, especially on currency risk.
Watch now